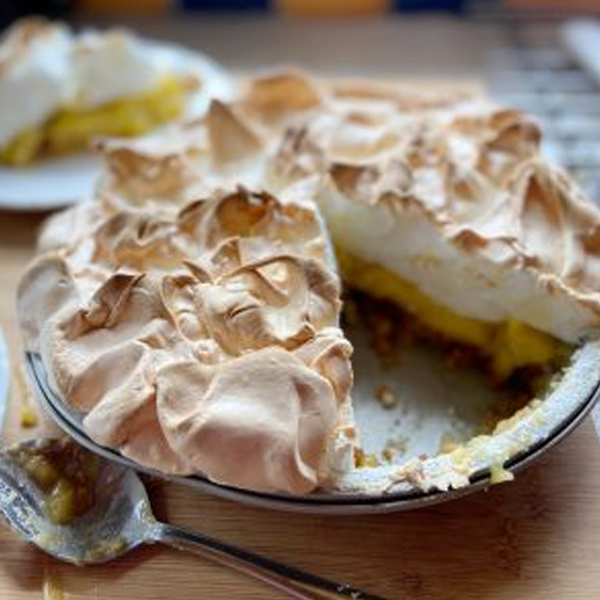 12 Apr

Lemon Meringue Pie

A delicious, special and popular dessert that's reasonably easy to make. A net of 3 lemons is perfect for this and, if you can, add an extra egg white to the meringue – you'll get a lovely tall and billowy topping like in the image above.

This recipe can be broken down in three parts – base, filling & topping.

Ingredients

Base

300g digestive biscuits
150g butter

Filling
15g corn flour (2 tablespoons)
100g caster sugar
Juice and zest from 3 lemons (roughly 100ml juice)
200ml water
3 egg yolks + 1 whole egg beaten together
85g butter cubed

Topping

4 egg whites (optional: add 1 more for a fuller topping as in image)
200g caster sugar
2 teaspoons corn flour

Method:

For the base, crush the digestive biscuits into small crumbs (Place in a ziplocked bag and bash with a rolling pin)
Melt the butter in a saucepan and then stir in the biscuit crumbs, ensuring the biscuit crumbs are well coated with the butter. Press the crumbs into the base of a 9″ tin – loose based is better. I find using the base of a cup or a potato masher to press down gives a good firm base.
Place in the fridge to cool while you make the filling.

Preheat oven to 180C

Meanwhile, in a saucepan, mix together the corn flour, lemon zest, sugar, lemon juice and water
Stir over a medium heat until it thickens. Do not let it boil.
Off the heat add the cubes of butter and stir to melt in. This will reduce the temperature of the filling before adding the eggs. Quickly stir in the eggs and when completely amalgamated return to the heat.
Cook over a medium heat until the filling just comes to a boil. Do not leave boiling!
Take the base out of the fridge and pour the filling over.
Leave to one side while you make the meringue topping.

Beat the 4 egg whites in a stand mixer (or use a hand mixer) until soft peak stage.
Mix the 2 teaspoons of corn flour through the caster sugar.
While still beating slowly add spoonful of the sugar to the whites and continue until the meringue is thick and glossy.
Using a metal spoon, place spoonful of the meringue on the pie, working around the outside edge first to 'anchor' the meringue to the side of the tin and prevent the meringue sinking in the middle of the soft filling. (see image above)
Bake for 20 mins until the meringue is golden.
Let the pie sit for an hour before slicing to allow the filling time to set.

Tip: Adding the meringue topping while the filling is still warm prevents the meringue weeping between the topping and filling.