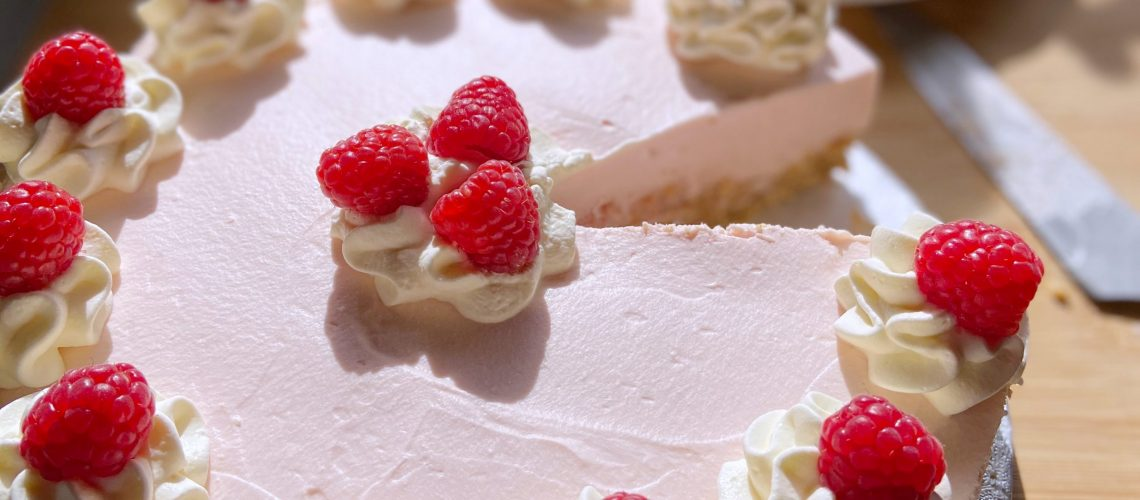 12 Apr

Raspberry Cheesecake

A very basic, easy cheesecake. No baking involved. No fiddling with gelatin leaves. This recipe uses a regular pack of jelly cubes. We use raspberry here, but you could use any flavor. Lemon, lime, strawberry or blackcurrant are all lovely too.

Ingredients

300g digestive biscuits bashed into fine crumbs
150g butter
1 x 135g packet raspberry jelly
50ml water
500ml fresh cream
2 tablespoons caster sugar
250g cream cheese
Fresh raspberries and whipped cream to decorate

You will need a loose bottom tin 9″ diameter.

Method
Cube the jelly and place in a microwave proof bowl or jug with 50ml water. Microwave for 1 minute full power or until the jelly is melted. Stir well together and then leave to cool slightly.
Melt the butter in a saucepan and then stir in the biscuit crumbs until well coated with the butter.
Press the crumb mixture firmly into the base of your tin and then place in fridge to chill while you make the filling
Using a food mixer whip the cream and caster sugar together. You just want it lightly whipped but still soft.
Using a spoon stir through the cream cheese to soften it before adding to the cream in 2-3 additions, whisking on a slow-medium speed until the cream cheese is well blended through the cream.
Pour the cooled (but still liquid!) jelly into the mixer and mix everything together until the color is even.
Take the base out of the fridge and pour on the filling. Give the tin a little jiggle and a few light taps on the counter to settle the cheesecake and then level off the surface using a spatula
Place cheesecake in the fridge to set for at least 3-4 hours, preferably overnight.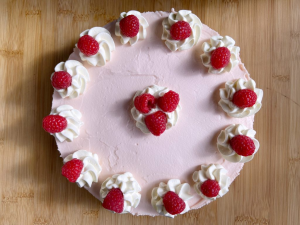 When the cheesecake is set, loosen around the sides of the cheesecake with a thin spatula before removing from the tin to a serving plate. Decorate the top with swirls of fresh cream and fresh raspberries.